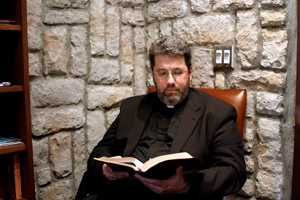 David Alan Hemann was born to Roman and Dorothy Hemann on August 16th, 1959 in Fort Dodge, Iowa, the youngest of six boys. His early education included grades 1-8 at Corpus Christi Grade School and 9-12 at Saint Edmond Catholic High School in Fort Dodge, Iowa. He received his B.A. in Psychology from Loras College in Dubuque, Iowa, his S.T.B. from the Pontifical Gregorian University in Rome, Italy and his M.A. in Sacramental Theology from San Anselmo in Rome, Italy. Fr. Hemann was ordained to the Diaconate on May 3, 1984 at St. Peters Basilica in Rome, Italy. He celebrated his ordination to the priesthood on July 20, 1985 at Corpus Christi Church in Fort Dodge, Iowa.
Fr. Hemann's assignments include: Holy Spirit (Carroll, IA), St. Mary (Storm Lake, IA), Little Portion Community (Eureka Springs, AR), Sacred Heart (Boone, IA), Blessed Sacrament (Sioux City, IA), St. Anthony (Hospers, IA), St. Cecelia and St. Joseph (Sanborn and Hartley, IA), Marian Hall (Sioux City, IA), Sacred Heart (Ida Grove, IA) and Our Lady of Good Counsel (Holstein IA) with the addition of St. Martin (Odebolt), St. Michael's (Sioux City, IA) and currently is Pastor of Holy Cross Parish which is a combination of St. Michael and Blessed Sacrament in Sioux City, Iowa.
In addition, Father Hemann is now serving as the Rector of the newly erected Shrine in the Diocese of Sioux City, Trinity Heights-Queen of Peace, located in Sioux City, IA. Fr. Hemann also founded a Charismatic prayer group entitled "LUMEN CHRISTI" (Light of Christ) to pray especially for the renewal of the church in these dark times. He serves as Charismatic Liaison to the Bishop.
In these assignments, Fr. Hemann has been fully engaged in every kind of pastoral activity proper to a diocesan priest. These assignments have also included years of teaching in both high schools and grade schools. He also has enjoyed working with the youth of the parishes, starting successful youth groups in Boone, Sioux City, Sanborn/Hartley, Ida Grove and Holstein. Currently he also works with a vibrant men's group and young adult faith and living groups. As much as he enjoys working with the youth, Father David is a priest who works well with people of all ages from conception to death to eternal life.
Fr. Hemann has served on the Presbyterial Council. He has also served as Vicar Forane (Dean) of the Southwest Deanery, a member of the strategic planning committee for the reconfiguring of parishes in the diocese, a member of the Catholic School Foundation Board, The St Joseph Student Aid Society and on the DAA (Diocesan Annual Appeal) board. Father Hemann has enjoyed giving spiritual direction to seminarians within the Diocese sharing with them the joys and privileges of serving God's people as a priest. In addition to his regular priestly activities, Fr. Hemann has been engaged in a music ministry before and throughout his priesthood. He believes that music is the language of the people. Father David's music has lent itself to involvement in a number of nation-wide ministries of giving retreats, missions and concerts. One highlight was being a featured artist in the presence of Mother Teresa of Calcutta at the first World Youth Day in Rome in 1984 at the English-speaking session at Santa Sabina. During 2000-2001, he was released for the period of one year from his regular priestly duties to pursue ministry around the diocese preaching on the themes of spirituality, discipleship, prayer and vocations. Each weekend was spent in a different parish putting on a mission which included regular weekend masses and homilies, a Sunday Evening Concert of original music and sharing the gospel, a Monday Evening talk on "Pruning and Fruitfulness in the Catholic Life" in the context of a reconciliation service, and a Tuesday Evening Mass. Fr. Hemann continues missions today with an emphasis on the "Universal Call to Holiness" and sharing stories and teaching on the gifts of the Holy Spirit.
Father David has had the privilege of co-hosting a thirteen-part teaching/musical series on EWTN called "Alive with Baptism." The series itself won the UCMVA 2003 UNITY AWARD for BEST RELIGIOUS TELEVISION PRESENTATION FOR CATHOLIC EVANGELIZATION OF THE YEAR. Father Hemann appears on the EWTN series called BACKSTAGE which features Catholic musicians from around the country.
Fr. Hemann has crafted 8 CDs that have helped people to pray, bring consolation and the Good News to them, and build the Kingdom of God. Following are the works released thus far:
Let Nothing Trouble You (1992) A collection of prayers and wisdom that helps bring peace and hope to the anxious heart.
Into the Light (1994) Psalms, Saints and miscellaneous prayers.
In God's Company (1997) A very well received work of traditional Catholic prayers set to music.
Holy Warriors (2000) More prayers with a definite Irish flavor and great variety.
Gathered Wisdom (2007) Songs of experience and wisdom to comfort the heart.
Psalms of David (2009) Psalms to soothe the soul.
Oasis (Instrumental Refreshment) (2011)
Come Holy Spirit (2018) a compilation CD of the above most requested songs.